AT MCG Temp Fence we sell the best range and highest quality of temporary fencing panels and accessories. We have the experience, knowledge and products to assist you.
We have all stock on hand and available for either pick up or dispatch. We can also provide a delivery and installation service for local sales.
We freight temporary fencing throughout the North Island. Our temporary fencing is ideal for civil works, construction works, demolition, pedestrian management and events.
From temporary fence panels, temporary fence sets, crowd control barriers, trench-end panels and accessories we have a product to meet your needs.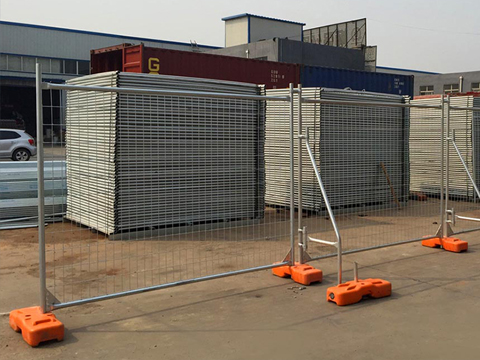 Temporary Fence Panels
We only sell brand new fence panels. Our temporary fence panels are a medium weight, high quality Performance Panel – for performance time and time again.
Finished with 42 micron galvanising this is the perfect panel for all civil, residential, demolition and event uses.
We do not sell a light cheap panel nor a heavy panel – our medium weight panel is the Performance Panel. Designed for every day, year around use for all site applications.
We sell the very same fence panels that we use in our day to day Hire operations.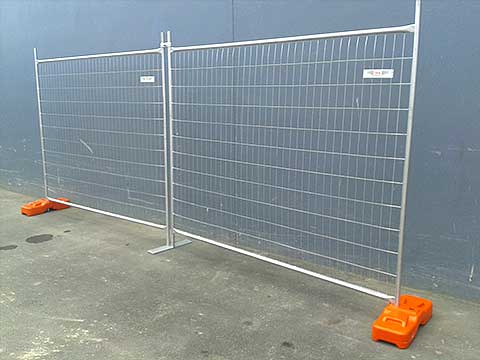 Temporary Fencing Sets
Our temporary fencing sets comprise 1x Performance Panel, 1x concrete filled foot (or steel foot) and 1x fence clamp. Panel size is 2.4m wide x 2.1m high, with 150mm x 60mm mesh opening. The pipe frame wall thickness is 1.5mm and 2.5mm anti-climb welded mesh.
Our panels are suitable for all manner of applications:
Residential temp fencing
Civil temp fencing
Construction temp fencing
Demolition temp fencing.
When installed with a concrete foot and clamp this provides a complete temporary fencing system which is WorkSafe compliant.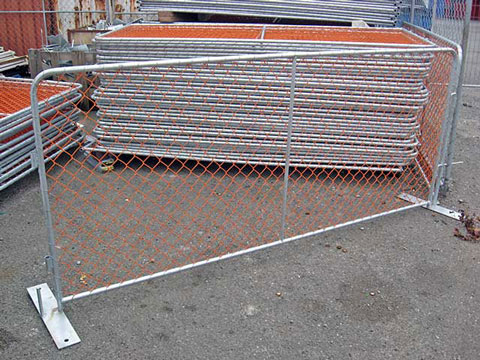 Construction Barriers
Our Construction Barriers are ideal for Civil Works, open trenching, roadworks, drainage work and so much more. Ideal when you need a quick and effective solution to maximise the safety of your work site.
Our Construction Barrier comprises an orange chain-mesh infill wired to a galvanised frame and attached with couplers and flat steel feet.
Barrier Size is 2.5mL x 1.1m H.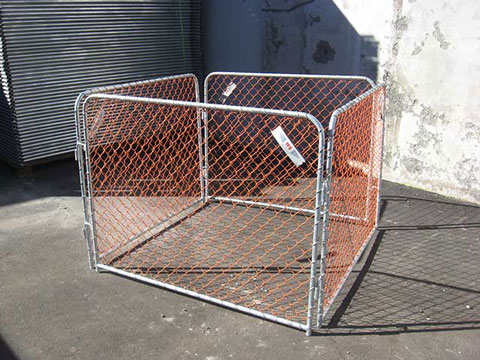 Trench-End Panels
Our Trench-End panels are purpose designed for small site and micro excavation work.
Ideal for:
Utility Providers
Power Contractors
Electrical Contractors
Cable Installers
Small site excavation.
Panel size 1.1mL x 1.1m H with orange chain-mesh infill and fitted with double couplers. No feet supplied.
Complimentary fit with our Construction Barriers.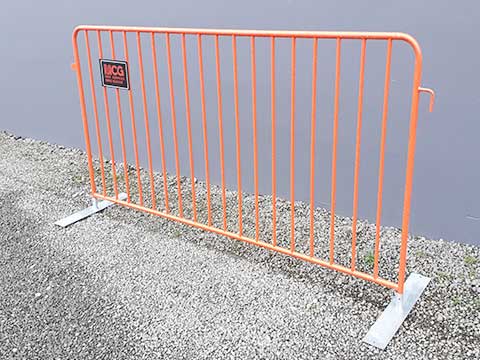 Crowd Control Barriers and Pedestrian Barriers
Our Crowd Control Barriers (CCB) are ideal for any event or situation that requires people management: sports events, concerts, festivals, airports, security events. Our Crowd Barriers are of the highest quality, lightweight yet strong and fully hot dipped galvanised for long life and multiple use indoors and outdoors.
Our flat feet provide greater stability and reduce the potential for trip hazards. Each barrier interlocks providing a continuous barrier and does not require any additional clamping or tools.
We offer two styles: Steel Galvanised Crowd Barrier panels or our Orange Crowd Barriers.
The Orange CCB is NZTA COPTTM compliant with a powder coated finish for high visibility; vertical rails are less then 100mm between rails and the space between ground and bottom rail is 100mm. They are fitted with interlocking couplers and all feet are pinned, enabling removal if required.
Both barriers are NZTA approved and interlock with attached couplers and include flat feet which are pinned, enabling removal of the feet if required.
Barrier Size: 2.2mL x 1.1m H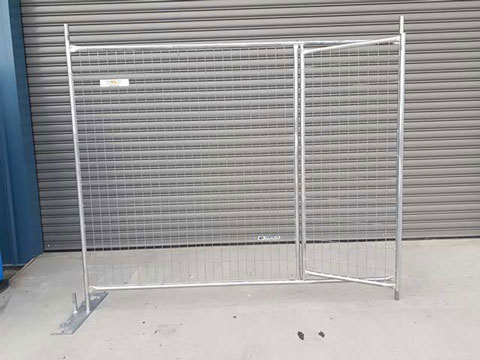 PEDESTRIAN GATE PANELS
Our customers love these – a standard temporary fencing panel with a built-in gate.
Ideal for creating a single point of entry/exit for pedestrians.
Ideal on large building sites or where you need to control access without the remainder of temporary fencing being interfered with.